Parking for free
Car Parking In Sidmouth General information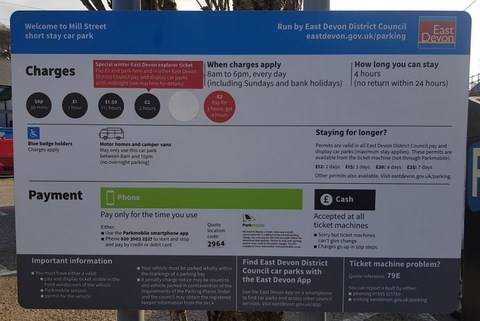 Sidmouth has several car parks, but it is a very popular place to visit and as such, certainly in the height of summer, finding a space can be a bit of a nightmare.
As you might expect parking for free in a seaside resort like Sidmouth is virtually impossible, but there are options, and other ways to reduce your costs which might not be that obvious.
Between November and the end of March generally there is a "cheap" car park option where for a reduced price you can park in any East Devon Council car park. See details below if you are reading this in this between these dates. The ticket is transferable from car park to car park under this scheme only.
---
Winter Shopper Special 2020/2021
Running from the 1st November 2020 to the 31st March 2021 residents and visitors will be able to purchase a £2 ticket from a ticket machine and it will be valid in any East Devon car park until midnight on the day of purchase.
You can use your ticket in any East Devon District Council Pay & Display car park until midnight on the day of purchase.
Pay just £2 and park for the rest of the day (till midnight) and the same ticket can be used in any East Devon District Council Pay & Display car park. The ticket will show the "normal" expiry time but as long as you have paid £2 it will be valid all day.
Excludes Parkmobile payments and Permit Holders.
---
Some other free and reduced charge options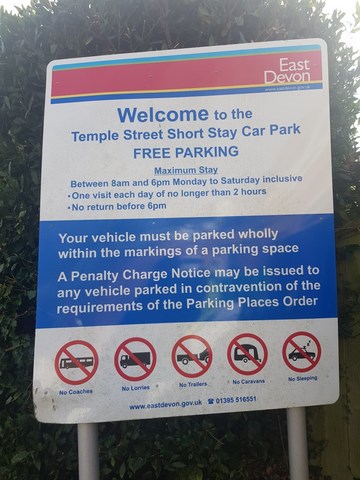 Temple Street Car Park is very small and several spaces are reserved permenantly but there are around 11 spaces that are deemed to be "Free" for two hours. Whilst the sign says you can only park free for two hours up to 6 p.m. in reality this is from 4 p.m. as you get your first two hours free. It is around 750 yards from teh top of the High Street.

Interestingly parking is free here all day on a Sunday, so if you are planning a Sunday visit this is well worth checking on your way in to the town.
Another interesting option is to park in the somewhat cheaper car park at Sidford and either walk in down the footpath known as "The Byes" or get a bus in from the stops locally. This is an especially good option if you get free bus travel. A return ticket from here is £4.60 (correct 2020), or £2.90 one way. You could walk in and get the bus back...
The walk in to Sidmouth is around 1.5 miles from here.