Roxburgh Car Park
This East Devon Council run car park is behind the shops and very tucked away in Sidmouth.
The post code is

EX10 8DD

There are public toilets in the town centre.
The car park has around 70 spaces.
Normal charges apply 8 a.m. to 6 p.m. all year and every day including Sundays.
You may park and park here for a maximum of 2 hours.
This car park is part of the "Winter Shopper" scheme from November to March
No coaches, commercial vehicles, caravans or trailers.
The car park has a RingGo code of

42937

Free motorcycle parking
No height restrictions
INCREASED PARKING CHARGES FROM APRIL 2022
East Devon DC have raised their parking charges to more or less DOUBLE what they were in 2021.

Please see all signs locally and check before you pay.

The anticipated new charges are showing on here.

---
Finding Roxburgh Car Park Sidmouth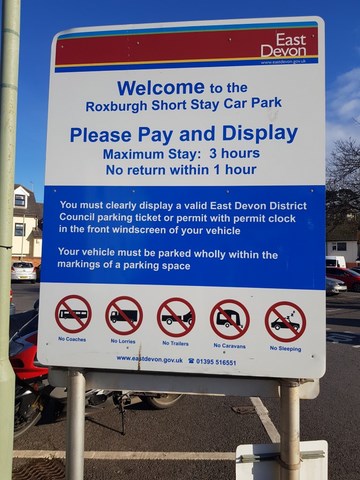 This car park is in the cluster of short stay car parks in the centre of Sidmouth. If you don't know the town you are in for a treat trying to find it, and find your way out of it again!
The only way to get to this car park is to, at the roundabout at the top of the car park go straight on in to the town centre and after about 300 yards the road effectivly splits (but in truth your only option is to keep left). At this point there is a turning to the left called Russell Street, turn left here and the car park is at the end of this road.
On leaving the car park the only way out is to turn right on to Russell Street and proceed up to Mill Street Car Park.
At the top of the road if you turn right you can thread your way down to the seafront and turn right there to leave Sidmouth. You will pass both the East and West "Ham" car parks on the way. Alternativly exit and turn sharp left and after about 100 yards you will come to the large ford through the River Sid. This is often closed after periods of heavy rain.

If you elect to go through the Ford and need to get to the A3052 then turning right will take you through Fortescue which is a "back road" to there. At the top of this road turn left for Exeter and right for Lyme Regis
---
How much does it cost to park?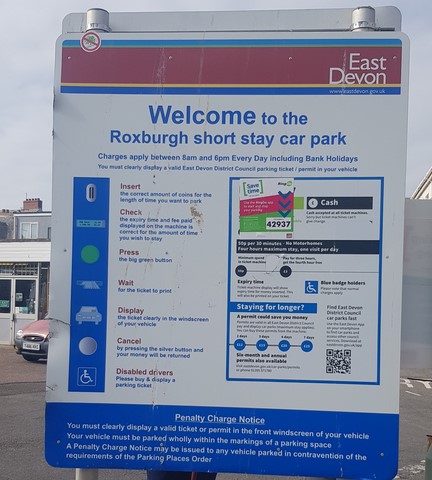 This car park is charged differently from all the other East Devon Car Parks in Sidmouth.
The charge is 75p for the first 30 mins. (Correct from April 2022)
If staying up to 1 hour the charge is £1.50, then for 2 hours £3.00
The maximum period you can park for is 2 hours which is £3
No long stay tickets are available.
more information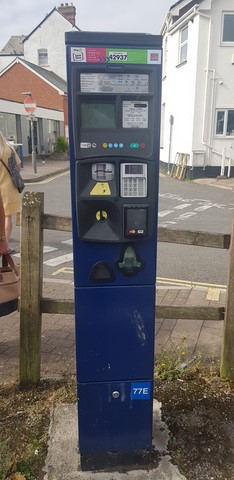 An unremarkable car park handy for the town centre and you cannot but admire that fact that in the middle of it there is a tree that actually does not get in the way!

What is interesting is the way to get to it and out of it and out of Sidmouth.

It is quite a good one to try as it is very tucked away and yet, if it is full, Mill Street and East and West Ham Car Parks are then quite easy to try and find a space in.