Sidmouth Folk Week Parking
Parking For Folk Week in Sidmouth
All the usual car parks are open of course but the Rugby Club and Cricket Club set up extra car parks just for the event.
To find them coming in to the town the easiest way to find them is, at the top of the high street at the mini roundabout just after the cinema turn right.

At the end of this road turn left (B3176), again at a mini roundabout, and the car parks may be found along here just before Bedford Lawn Car Park. There are usually bright yellow signs at each side of the road at the location shown in the picture here.
The cost to park is £10 (Correct 2021) although this tends to decrease to as low as £3 for just late afternoon or evening. They are not always open during Folk Week as it depends on predicted demand.
(Picture from Google Earth)

---
Map showing Location of festival extra town car parking
Parking For Folk Week in Sidmouth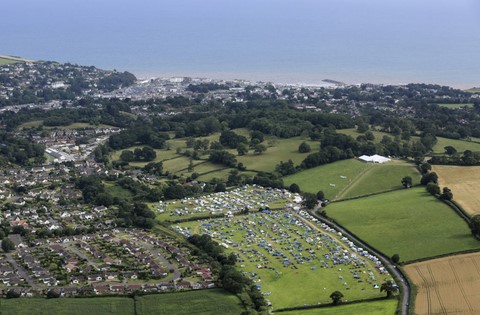 Parking may also be possible at Bulverton Road camp site (and car park) for around £4 all day or £2 in the evening only (correct 2020). The post code for the area is EX10 9DW.
This is a little outside the town and you would probably want to get a bus down to the centre, there are stops close by. Buses 157 (hourly service, two hourly on a Sunday) and 382 (Infrequent) serve the stop nearby.
Alternativly you can walk, it is about 1.5 miles.
(Image copyright Sidmouth Folk Festival,
Click the image to move to their site)
---
Alternative option for Parking For Folk Week in Sidmouth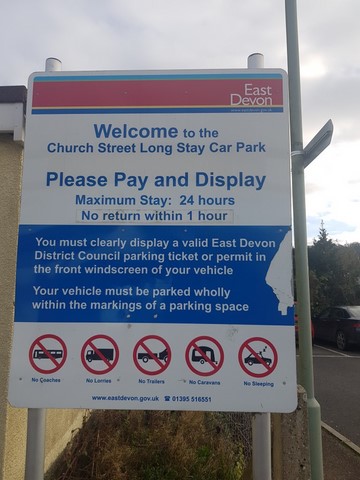 Another option if you are struggling to find a space is to park in Church Street Car Park in Sidford and walk down through "The Byes" or take a bus the 1.5 miles in to the town centre.

The car park information may be found here and if you are going for a bus exit the car park and turn left and left again at the lights and go to the first stop on the same side of the road, there are more buses from here than the stop near the car park.
Map Showing Camp Site Location
---
Sidmouth Car Parking Information - A Community Web Site
---